Covid prom = no dancing
This year's prom at New Prague High School looked a lot different from proms in the past. First, it was open to seniors only (with younger students and students from other schools allowed as dates.) Typically prom is a junior-senior event. Additionally, while the Grand March usually takes place in the high school gym, this year it was outdoors on Trojan field to allow for a safer setting and more spectators. One might think an April 24 prom would bring warm weather and sunshine. The party-goers got the sun, but the warm weather was nowhere to be found, with high temperatures in the upper 40s. Another step taken to keep it more Covid-compliant included offering 2 different times for Grand March. Students could sign up for the 3 p.m. Grand March or the 4:30 Grand March. When couples were not participating in Grand March, they were invited to Cedarbrook Gardens to take pictures in their beautiful outdoor space.
Following the Grand Marches, students headed to the Park Ballroom in New Prague where they had dinner, enjoyed entertainment from three different comedians and participated in a prize drawing hosted by the Parents and the Post Prom Committee.  Prom may have been different with no dancing, but it was a great excuse for people to dress up and get some memorable pictures.
About the Writer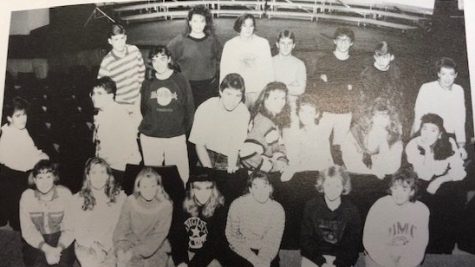 Rachel Harmon, Advisor
Rachel Harmon was a member of the New Prague High School newspaper staff from 1988-1991 when the paper was called The Tatler.  (As part of the 1989 Tatler...