German students experience life at New Prague High School
New Prague High School opened its doors to welcome five international exchange students this semester. Students Leni Beulen and Amelie Heinzmann traveled from Germany, Anonio Serrano and Ana Garcia Casqueiro are from Spain, and Zascha Kragdahl is visiting from Denmark. This issue will feature Leni Beulen and Amelie Heinzmann.
Leni:
Traveling across the country to another school is a major change and brings about many new experiences. After coming to America, Leni experienced her first Pledge of Allegiance (which is not something that happens in Germany.) She noticed that the main difference between the United States and Germany is that "there [are] U.S. flags everywhere here. I usually don't see a lot of German flags, besides in times of sports events such as the UEFA EURO, the Football World Cup or the Olympics." 
Leni's favorite thing about the US is "how nice and beautiful all the classes are decorated." In addition to the extravagant decor, she also enjoys that the teachers are invested in and enjoy their subjects. 
Although there are a lot of new and fun things to experience in the U.S., being a foreign exchange student also has its drawbacks. When asked what she misses most about Germany, Leni said, "I definitely miss my friends and family the most about Germany, but also German Candy and German bread (I love German bread)." 
New places also bring new surprises, Leni was surprised that many people here are interested in German culture and know a little bit about Germany. She said, "Many Americans have German ancestors and therefore feel connected to Germany in some ways." So although America may not measure up to the same bread standards as Germany, there are still quite a few new things worth trying in the U.S.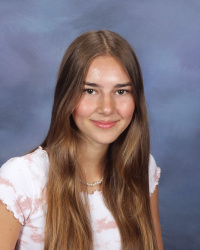 Amelie:
There are many cultural differences between the U.S. and Germany; one of Amelie's favorites is the school spirit in America. In Germany, sports are often separated from school so there isn't the same outside-of-school connection with other students. She was surprised that "football games are so important here and that so many people are always coming on Friday to the games to watch them". She thinks that this is a cool way to have fun and bring students together. 
School itself is also different from school in Germany. Amelie got to choose some of her classes here but notes that the school day is longer. She has fun in her classes and enjoys doing activities after school. She also says that "people here are so welcoming to others." She likes that she has access to people who can directly help her if she needs help. 
Another thing Amelie has noticed about the U.S. is the countless number of fast-food restaurants. She said, "Since I'm here, I don't eat so healthy anymore." The food options are not as healthy, and it's more common to eat a lot of meat in the U.S. Despite the temptation of unhealthy food, Amelie stated, "In the end, I really like it here and I'm happy to be here and get to see the culture and life here in comparison to my home country."