NPAS staff takes the plunge
Some New Prague Area Schools staff made the dangerous and freezing cold decision to participate in a polar plunge for charity. The event took place on Saturday, February 19th, at Prior Lake. Participants for the New Prague Trojan Team included Team Captain Jake Frey, Kellie Frey, Mary Lukkes, Tony Buthe, Dave Giesen, Angie Musil, Shelly Thelen, Chase Buthe, and Nicole Saatzer.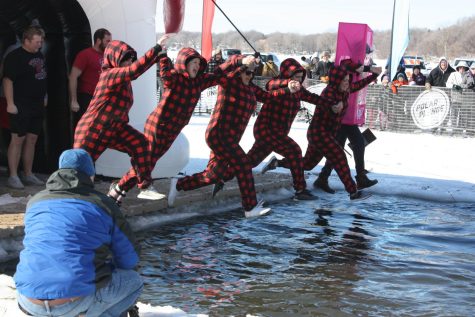 Tom Wetschka and Amy Mittlestadt helped raise money for the team as well but were unable to attend the event.  The group raised over $4,569 dollars, demolishing their goal of $3,200 dollars.
The money goes to Special Olympics Minnesota, an organization that provides funding for Minnesota Special Olympics athletes. Using this money, they can afford to train in facilities all year round, and it allows athletes all over the state to participate in sports. The event is the largest fundraiser the organization has with 22 events statewide.