School spirit starts on the football field
It's that time of year again! The weather gets colder, school is in session, and the Trojan Football team rushes the field on Friday nights. When September rolls around, NPHS students get hyped and ready for the game under the lights. The team is 3-2 so far this season and earned all three wins on their home field. The atmosphere at the games was refreshing, sparking two close victories and a blowout in the Homecoming game. NPHS showed their school spirit in the stands, and the team displayed their talent on the turf.
The Trojans are head coached by Jake Norby. They are also captained by Aiden Jackson, Matt Schoenecker, Jake Hemann, and Frank Deichelbohrer. The team started the season with a nail-biter against Rochester Century. The Trojans were down 1 with time ticking off the clock. Junior Kicker Satchel Johnson stepped up and kicked a 32-yd field goal for the win. In the game against Austin, Senior Jake Hemann had a pick-six late in the fourth quarter to seal the win. Two exciting games in our stadium with more to come.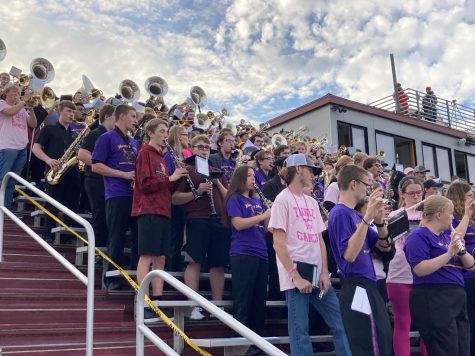 The football team generates the biggest crowds of any New Prague sports team. They also put on great events at these games. On September 16th, they hosted the Tackle Cancer game against Austin. With T-shirt sales and bucket donations, New Prague raised $5,162 for cancer research. 
Great things are coming from the student section this year including an overwhelming amount of school spirit, hype music from the pep band, and great work by the cheerleaders. Although there have been issues in the past in the stands, students have shown great responsibility. After the games, students have been a help to the custodial staff by picking up all garbage left behind. It's the little things that lead to big positive changes at the high school.