New Prague veranstalten Deutsch Schüler
An annual tradition that students at the high school look forward to is hosting German exchange students. When the students arrive, there are always whispers throughout the halls such as "Are those the Germans?"or "They have awesome style!" and "Oh my they're hot." This year New Prague had the honor of hosting 12 exchange students. 
When Exchange Student Tim Schlotthauer got off the plane, the first thing he noticed was how much bigger everything was. One of his favorite things he did in America was trying new restaurants. His favorite was Buffalo Wild Wings. "I got honey barbeque with ranch and carrots." One of the biggest differences from New Prague High School school to theirs is the use of cellphones. They are prohibited to use their phones throughout the school day. Schlotthauer enjoyed himself while he was here and hopes to return to America one day.
Lexi Trachte who participated in hosting a German student had nothing but good things to say about hosting. She was most excited about building relationships and connections with people she had never met before. One of the biggest things she learned from the hosting experience was different German phrases and slang. Lexi was surprised that they don't say, "Du bist ein Strophkopf," or "You are a blockhead" in English. She recommends hosting to any student who plans to go on the German trip.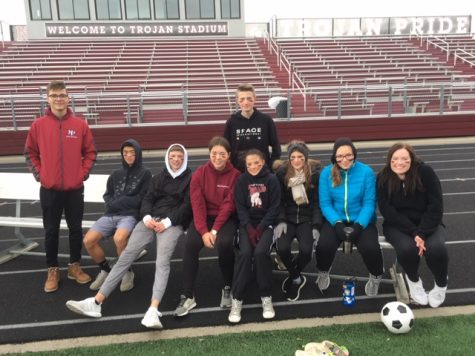 During the exchange student's visit, the German Club hosted a soccer match. They had a total of 50 participants in the German Club event. German students also had the opportunity to listen to presentations put on by the exchange students to learn more about their home and culture. Uno, cards, and Harry Potter trivia were some of the activities shared between the exchange students and New Prague students. New Prague hosting the exchange students is always a highlight every year. Many of the NPHS students who hosted exchange students will visit them when they travel to Germany next summer.