A city of trends
Recently, I took a vacation to New York City. Admittedly, I went to tour different colleges on my list; however, my college-oriented visit didn't deter me from taking in my surroundings, along with the vibrant fashions of the Big Apple. 
One of the first things I always notice anytime I go to New York is the use of biology throughout all of its architecture. One of the newest additions to a popular and upcoming area in New York is Hudson Yards; this is where all the shipping used to take place before it was moved over to New Jersey. It's one of the hottest spots for all sorts of vibrant New Yorkers and tourists. A new art installation was recently put in, The Vessel, and I was lucky enough to visit it along with the chance to go up to the top of the beehive-shaped structure. Naturally, I ran into many different people here, some from Manhattan and the island's surrounding burrows, and some from all the way across the world in Singapore.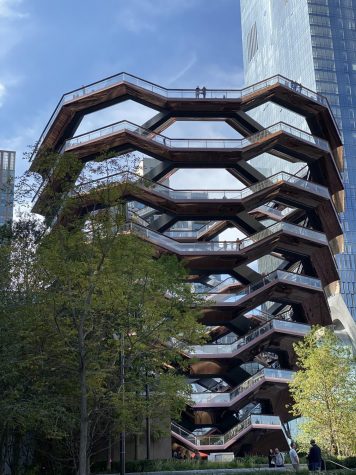 What did I notice? The fashion. For a city as vibrant as New York, the clothing has to match the same vibe. This 2019/2020 season featured looks with earth tones: green dresses, long brown coats, and gray hats and boots all around. Many designers have been inspired by New York City recently, and honestly, I'm loving it. Because New York has taken inspiration from nature and the biology of all things outdoors, that means that high-end fashion all the way to brands like H&M are following in the same footsteps. 
I can't wait to see what comes next in the upcoming 2020/2021 season, but one thing's for sure: as the decades pass, styles and trends change, but there will always be a sense of self-expression through clothing, and that is the beautiful thing about the always-changing world of fashion.