1917 Review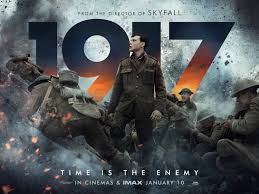 I'm going to be honest; 1917 wasn't great. I was really looking forward to it and expected it to join the ranks of Saving Private Ryan and Dunkirk. Sadly, the movie was decent, but not stellar. I still recognize the good in the movie: the interesting one-shot cinematography and the gritty realism of the front lines. 
I'll specifically note that the movie being filmed to look like a single shot was very novel to me. I'd never seen anything like that before, and I went in expecting to love it. I'm a big fan of long single-take shots, especially action shots; however, the entire movie being one-shot began to take its toll on me. It felt excruciatingly dull having to watch every step the characters took. I admit that this actually helps build the overall experience of the film as the audience feels the same weight and exhaustion that the soldiers feel: a unique unison is built between the characters' experiences and your own. But truth be told, it was mostly just tiring. 
I think the theater itself was the best part of the movie. The theater was packed on a Tuesday evening, and I'd venture to guess that roughly a third of the audience members were seniors. I saw a teen bringing his Grandpa to see his father's war on the big screen. It feels like there are so many films detailing the second World War and Vietnam, but the Great War doesn't receive the same attention. It was moving to see the turnout and response, and therefore the impact of this World War I movie.
 After seeing the trailer, my mom turned to me and said something like this, "I've got to see it. I feel like I owe it to my grandpa." Her grandfather, my great-grandpa, was a captain in the war, and to feel and experience that tie to the film felt special, not only to my mother and I, but clearly to an underserved group of moviegoers. 
I recommend 1917 to anyone who enjoys war movies, has any ties to the Great War, or feels like experiencing a novel film technique. It isn't great, but it's still pretty good.