Youth in Government Model Assembly
As NPHS students took finals, 56 New Prague students were transforming into future leaders of the country. The 66th annual Model Assembly conference from the Youth In Government program was a success for the New Prague delegation. 
Throughout the conference, a few NPHS bills in the legislative branch got through the process. Evan Helvick's bill, "An act to create a program that provides a connection of welfare recipients in need of work to construction companies" in the Upper Legislative branch, passed all the way. New Prague's lawyers spent lots of time in preparation for their court briefs, and it paid off. As multiple lawyers won their cases.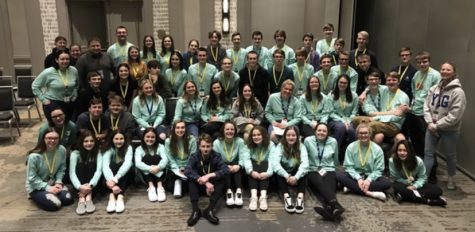 There was a lot of action within the Lower Legislative branch. New Prague sent multiple bills through committee, senate, and house; particularly, Lucas White's bill "An act to lift the ban on Nuclear Energy in Minnesota." A large part of the New Prague delegation is in National Issues Forum where the delegates tackle national issues. Additionally, Cece Thoresen proposed "To require all states to entail sexual education in all publicly funded schools for students in grades 5th-12th, every 2 years. (The purpose of this proposal is to ensure that all students are educated on human sexuality, emotional relationships, sexually transmitted diseases, sexual activity, reproductive health, sexual consent, forms of contraception, and how to have safe sex.)"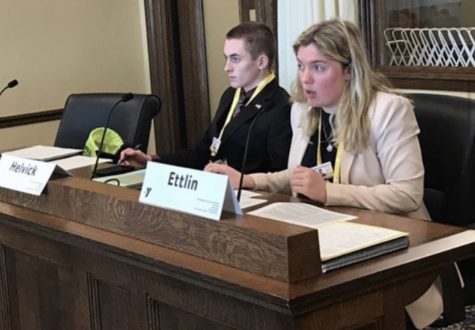 New Prague had many leaders within the conference this year: Ava Hart was the Chief Justice within the Supreme Court branch; Hannah Orr was appointed in the Supreme Court as a Presiding Justice; Aiden Gaines ran a committee within the National Issues Forum branch; Ella Ettlin and Jake Helvick ran a committee within the Upper Legislature department; Sullivan Hart ran a committee in the Lower Legislative department; New Prague even had a representative from the media team, Jack Baribeau, featured on the YIG radio!!
The delegation also elected a new Steering Committee Chair and Vice-Chair.  Sidney Dickenson and Ella Ettlin ran against Jack Baribeau and Sullivan Hart. Both sides prepared speeches and debated on Saturday. Tallying the votes resulted in a split vote, a 26-26 tie! An emergency meeting followed suit: Sidney and Ella won the election and will serve in 2020-2021.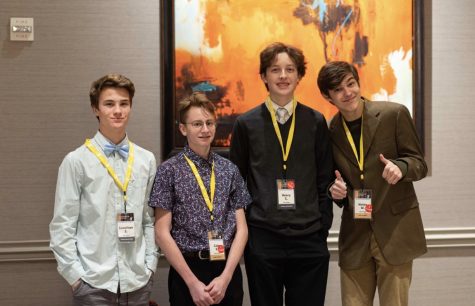 Naturally, YIG focuses on government, but socializing is an important aspect of YIG. Arguably, everyone's favorite part of the evening is the talent show. Delegate Jack McBroom regularly dominates the stage. Members also enjoy spending time with their friends in the hotel room and meeting new friends. YIG develops soft skills, and a conference with 1,600 people can be a scary thing. Delegates grew as individuals from the experiences and people they encountered.