Hatlevig explores a new sport on skis
NPHS Senior Elsie Hatlevig joined the nordic ski team at Prior Lake High School. Although she had never cross country skied before and has only been doing it for a matter of months, she is one of the top of the Prior Lake team slowly working her way up through the state ranks. 
It began with quitting basketball when she needed to keep up her physical form and ability for cross country and track. This lead to an offhand comment from her father about skiing instead of the alternative of working out. Then, she decided to give it a try. She went to Prior Lake's meeting at the beginning of the school year and went for it. At the first meeting, she was by herself and had never done nordic skiing.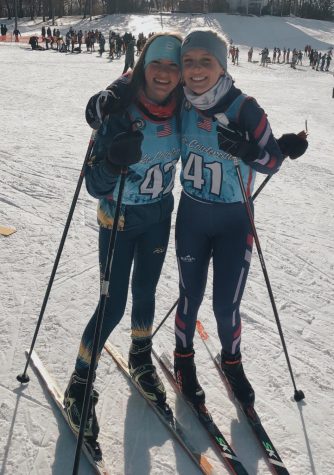 Although she didn't know anybody, she is extremely grateful for the opportunity it gave her to meet and make friends with an entirely new group of people. They now do team bonding activities like sledding and pasta parties before all the meets. 
Practice with her team happens fairly often, and most of the time they go to Cleary Lake's 12 miles to fully experience and train in the snow. Before the snow, they would go skate skiing, using the poles and roller skates to get the same effect as skiing. She also had never roller skated when she began, which makes for an entirely new set of skills and experiences she can say she's done. 
When it comes to the meets themselves, she participates with Prior Lake's team at JV meets, but she has to compete unattached for any of the others, including varsity. Since she is unable to compete fully with the Prior Lake team, she gets her own uniform, a fun pink and purple that she has to herself. 
Hatlevig is happy with her newfound hobby and thankful for the friends she has made and the experiences she has had. She is hoping to get to the top places in the state and compete against all of the bigs schools in Minnesota.