7 Trojan wrestlers compete at state – three compete in championship round
Congratulations to the following Trojan Wrestlers who competed at the state tournament February 28-29.
Section 2AAA 106 pound Champion – Koy Buesgens (9)
State results – Koy finished in 3rd place with a 5-0 win in his final round.
Section 2AAA 2nd place 120 pounds – Colton Bornholdt (9)
State results – Colton finished in 4th place losing his final round.
Section 2AAA 2nd place 126 pounds – Joey Novak (9)
State results – Joey finished in 2nd place losing the championship round 4-2.
Section 2AAA 138 pound Champion – Nick Novak (11)
State results – Nick finished in 2nd place losing the championship round 9-2.
Section 2AAA 145 pound Champion – Max Scheffler (12)
State results – Max finished in 5th place defeating his opponent 4-3 in his final round.
Section 2AAA 2nd place 182 pounds – Jake Trachte (12)
State results – Jake fell in his opening round match 4-0.
Section 2AAA 195 pound Champion – Will Busch (12)
State results – In the championship round, Will and his opponent went into overtime where Will was defeated 3-1, earning 2nd place.
Information below is Coach Dan Wagner's take on the state tournament:
On Thursday we headed to St. Paul to register our 7 seven state qualifiers for the MSHSL State Wrestling Championships.  It was a great weekend of wrestling and getting to hang out together. All seven of the wrestlers represented New Prague very well on and off the mat.
In the opening round the guys went 5-2, putting the fate of Colton Bornholdt and Jake Trachte in the hands of their opponent.  Bornholdt's opponent won his next round match, keeping Colton alive. Unfortunately, Trachte lost a very close battle and his opponent then went on to lose his next round to the number one seed of the tournament.  This put an end to a great career for Trachte. He ended his career with over 100 wins. More importantly, he was a great leader and role model for the future Trojans.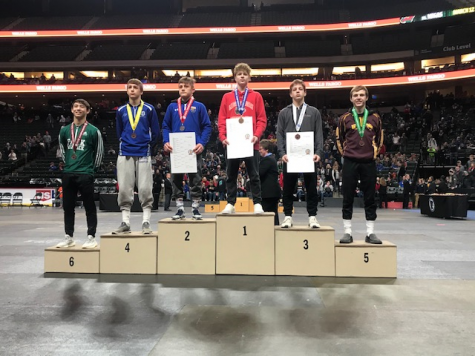 At 106 Koy Buesgens won his first two matches putting him in the semifinals against the number two seeded wrestler.  Buesgens battled hard but fell a little short losing 2-3. After losing in the semifinals, Buesgens showed great character and grit, winning his next two matches in the wrestlebacks.  Buesgens came all the way back and finished with a third-place medal!
At 113 pounds, freshman Colton Bornholdt got a second chance after losing in the opening round to the 3rd seeded wrestler.  Bornholdt, who came into the tournament unseeded, rattled off three consecutive wins putting himself in the third-place match against the same opponent he lost to in the opening round.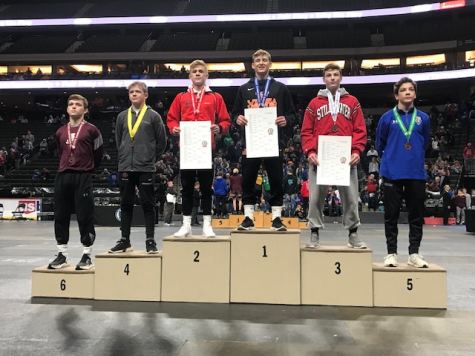 Although Bornholdt did not win the placing round match, he wrestled a much closer match than the opening round. In the opening round, Bornholdt lost 2-9. In the third-place match the score was 3-5.  Congratulations on your 4th place finish!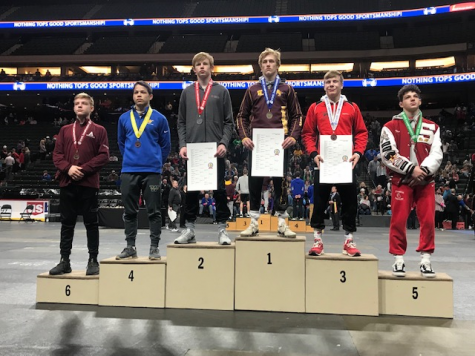 Joey Novak represented the Trojans at 126 pounds.  Joey came into the tournament as the number six seeded wrestler.  He saved his best for the end of the season and wrestled his best tournament yet.  After winning his opening round match, he faced the number three seeded wrestler from Northfield.  Joey walked away with a 5-1 victory putting him in the semifinals against a familiar foe from Shakopee.  This would be the fourth time Joey faced this opponent…all of which Novak came out on the losing end. However, Novak wrestled the match of his career and pulled off what may have been the upset of the tournament!  After knocking off the number three and two seeded wrestlers, he found himself in the finals against a two-time defending state champion out of Forest Lake. Joey once again wrestled very well but came up a little short, losing 2-4 and taking home a second-place finish in state.
Nick Novak was up next for the Trojans at 138 pounds.  Novak entered the tournament as the third-seeded wrestler in his weight class.  After winning his first two matches, Novak found himself in the semifinals against a familiar opponent as well.  He would face Cole Becker of STMA who Nick lost to in our dual just a few weeks ago.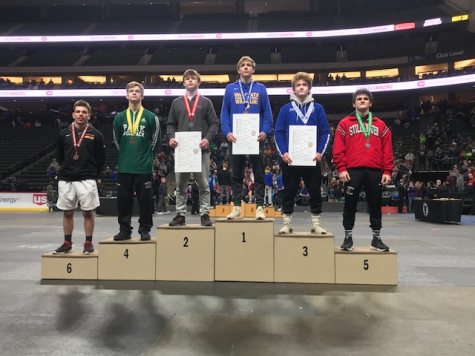 Nick would come out on top this time in another tight battle between the two wrestlers.  Novak won by a score of 2-0 over the number 2 seeded wrestler and earned his way into the finals.  Novak gave it everything he had in that match but came up a little short. Novak added a 2nd place finish to his amazing resume.  Last season Novak placed 4th and the season before that he placed 6th. Congratulations Nick.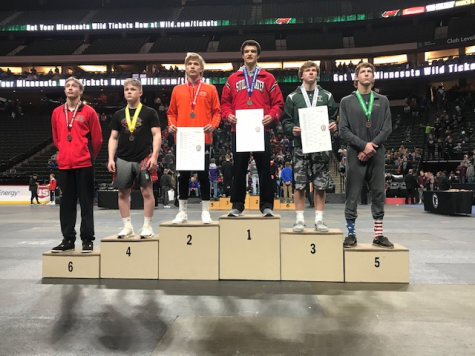 Max Scheffler participated in the 145 pound weight class.  The senior opened his tournament with a first period fall. However, in the second round of the tournament, Scheffler lost a tight one to Alex Kowalchyk of Coon Rapids by a score of 2-3.  Scheffler would have to win the next two in order to find the podium. He did just that with victories of 6-0 and 7-2. In the next round, he lost putting himself in the fifth-place match and finding a rematch with Kowalchyk.  This time Scheffler would come out on top finishing his high school career with a 4-3 victory and a 5th place finish at state!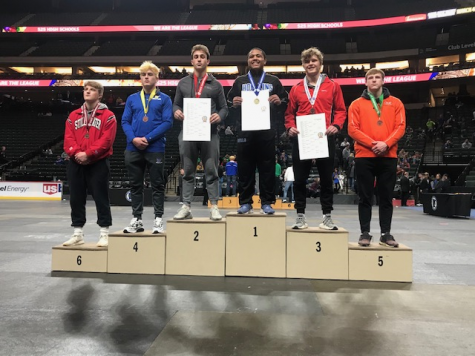 Senior Will Busch also came in as the third-seeded wrestler in the tournament.  After winning his opening two rounds he faced the second-seeded wrestler out of Stillwater in the semifinals.  The match was tied 1-1 towards the end of the third period. With less than 10 seconds left, Busch had an unsuccessful attempt at a takedown.  However, Busch did not quit and tried a lateral drop with less than three seconds remaining in the match. After a short discussion between the two officials, they awarded Busch with the takedown, resulting in a 3-1 victory for Busch putting him in the finals.  The finals match was just as exciting for Busch. After three hard-fought periods, the score was knotted up 1-1. About ½ way through the first overtime, Busch's opponent had a great leg attack that would end up in a takedown. Busch ended a great wrestling career with a second-place finish in the MSHSL State Tournament!
Overall, the guys went 20-9 in individual matches at the MSHSL State Championships.  Finishing the tournament with six individual place winners is the most in any one single season in program history!  The second most happened in 1988 with 4 place winners. This was a great way to cap off an amazing and historic high school season.  I am beyond proud of this group of guys. All 27 guys worked hard and did everything the coaching staff asked of them throughout the season.
On Saturday there was a scary moment during the 220AA semifinals match as one of the wrestlers collapsed and went into cardiac arrest.  Trojan Wrestling Alumni Dr. Mark Berg was right there to jump in and provide life-saving actions. We are proud of you Doc! Below is an attachment to the story.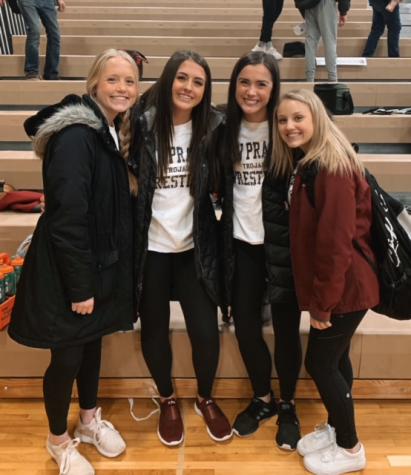 Finally, there is a group of young women who need to be recognized.  I have four amazing managers that go above and beyond to make life easier for the coaches and the high school wrestlers.  From recording matches, to entering stats, to doing laundry on a daily basis, to helping every day at practice; the list goes on and on!  They are amazing and we appreciate everything they do for New Prague Wrestling! They attend all events and all practices with a smile on their faces.  We are lucky to have them in the program. Our managers are Mallory Schmitz, Emma Norstedt, Annie Glomski, and Keelie Buesgens. Thank you for all you do for us.
Thank you for the continued support of New Prague Wrestling!  This has been a great year for the program but we are not done yet.  GO TROJANS!!!
Sincerely, Coach Wagner
Information below is Coach Dan Wagner's take on the section tournament:
The Trojans had a great weekend of wrestling and will send 7 Individuals to the State Tournament which starts on Friday morning at 9AM at the Xcel Energy Center in St. Paul.
Koy Buesgens ranked #4AAA knocked off #1AAA Jore Volk in the finals to claim the title at 106.
#5AAA Colton Bornholdt beat #4AAA Teaghan Block of Prior Lake for the second week in a row to punch his ticket to state finishing 2nd after losing to #1AAA Paxton Creese at 120.
Joey Novak #6AAA lost #2AAA Pierson Manville in the finals but won win his true second match to send him to state at 126.
At 138, #2AAA Nick Novak claimed the title after beating #10AAA Ryan Cripe of Lakeville South.
#9 AAA Max #Scheffler beat #8AAA Brice Bishof to claim the title at 145.
Jake Trachte #6AAA lost a close one to #7AAA Jack Casey of Shakopee in the finals but came back to win the true second match.
#3AAA Will Busch avenged a loss to #1AAA Joey Johnson of Shakopee and won the Title at 195.
New Prague had every wrestler finish 4th or better. Those just missing out of State and finishing 3rd were; #5AAA Colby Dunkel at 113, Ryan Wagner at 132, Ethan Gregory at 160, Jay Skogerboe at 170, Evan Anderson at 285. 4th Place finishers were Carter Bornholdt at 152 and Jarek Tikalsky at 220.
The Trojans were a combined 38-12 at one of the toughest sections in the state!