Girls Soccer season wrap up
School has been hit hard by the COVID-19 Pandemic, but nothing was hit harder than sports. Captain Keiran McLoone said, "From tryouts, to the end of the season, everything was different. The game of soccer was the same, but off the field we had to make many adjustments. For starters, we showed up and left practice in masks. We were not allowed to have a state tournament and had 5 less games than usual." 
Being an athlete, you get accustomed to having the same schedule for years. When COVID hit, everything changed.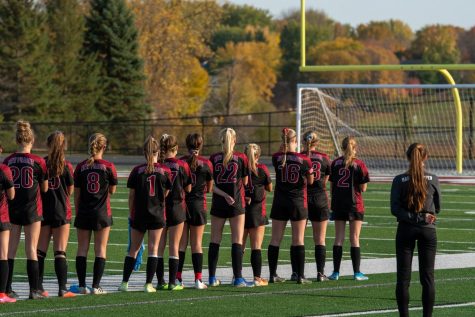 Keeping a positive outlook on a season is very important for athletes. McLoone seemed to have a positive attitude towards this whole mess. 
When asked about her favorite memory from her senior season, she said, "My favorite memory would be having senior night and being able to play our full season. Before our season, I didn't think we would be able to have either of those."
It has been essential to appreciate the little things in a season. The girls' soccer season may not have been all that the athletes had hoped, but they still made the best of it. The entire team knew that getting a season at all was incredible, and they made the best out of it. 
McLoone said, "From this past year I would say we had such a positive outlook and were so grateful to even have our season. We knew our season could get cancelled at any moment so we practiced and played each game like it could be our last." 
These girls got to play soccer and do what they love throughout this pandemic. After a short, but great season, they feel staying positive and passionate has been their greatest accomplishment.