"Love and Monsters" movie review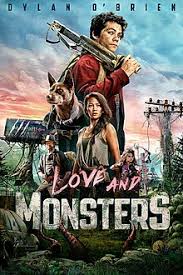 "Love and Monsters" is a new action movie that came out mid-October, starring Dylan O'Brien. This is an exciting movie that had a lot of different elements to it, and it is not the typical apocalypse movie. The creativity behind the monsters that were created and the effects were both very well done along with the plot of the movie. 
Viewers follow Joel as he treks across the United States to reach his high school girlfriend after 7 years of living in a bunker, and now he has to face a multitude of creatures that could easily kill him. Along his trip, he finds a dog, who then becomes his constant companion during the trip. Here you get a classic human's best friend plot. 
The movie included a fair amount of humor, due to the fact that Joel has absolutely no clue what he's doing. He is an awkward and unsure boy who has not seen the outside world for seven years, and he also has a bad habit of freezing up when scared. Luckily, he comes across two other travelers, an old man and a young girl, who teach him all about the monsters that now live here and how to avoid them. These two also make great comic relief, and the mix of characters makes it a very enjoyable and entertaining movie. 
You get many action scenes and scenes that are heartwarming. All in all, it is a great movie.  It is available on-demand through Amazon Prime.