One Act Play Competition goes virtual
The One Act Play has had a collection of changes this year! The play this year was called "The Party Hop" by Nathalie Margolis. Directed by Ben Thietje, the play followed three college sophomores, Ava, Nancy, and Emma, as they bounce from virtual party to virtual party. 
This year, 15 students participated in the play. The crew had the choice to record their play on stage, following proper COVID guidelines, or do it over a google meet. The NPHS team chose to do it virtually. The challenge to this was the recording could not be edited or modified after recording or before submission, so if they made a mistake, they had to start again from the top!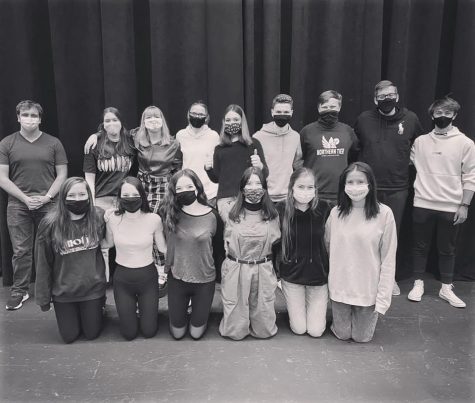 This same video was resubmitted for each competition, but the students didn't perform it on stage. Once the recording was completed, it was sent to the panel of judges for subsections. 
Their performance was judged based on characters' personality and enthusiasm, whether their lines were memorized, and on the character's costumes. They also had a 30 minute time limit, and if they had a set they had to be able to set it up in 10 minutes and fit it in a 10 foot by 10 foot square! 
Their performance this year received first place at subsections, and second place at sections where they competed against Shakopee, Prior Lake, and St. Peter. Prior Lake took first place and advanced to state competition.