NPHS TIME bots qualify for state competition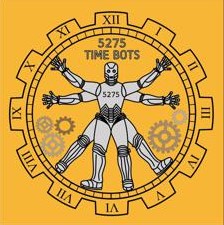 The New Prague TIME bots placed 27th out of 100 teams in the state of Minnesota. 
Grace Madson, senior and team captain, said, "I am so proud of how far the team has come this year despite the difficult circumstances. The team has held more meetings than any year and was able to build the best robot the team has ever built. As you can see, all that hard work finally paid off." 
The robotics team meets all year, but they primarily meet in January and February when the robot is being built. During this time, they meet most weekdays.
The team works in smaller groups which each have their own atmosphere and role. 
The mechanical team builds the physical robot and tends to be sensible, goal-oriented individuals. 
The computer-aided design team digitally creates the pieces that the mechanical team ends up making. This group is small, but the members work very hard while still managing to not take themselves too seriously. 
The controls team programs and drives the robot and is made up of sincere, sanguine people. 
The safety team does as one would expect: keeps everyone safe. Members of this team typically are laid back but have a no-nonsense attitude about the safety of the team. 
"On the robotics team, we all work as one to create something we are proud of. The environment of the team is much more open than in other extracurricular activities," Community Impact Lead Stephen Whipple.
This year has been different than previous years as all FIRST robotics teams competed virtually, completing various challenges that can be done here at the high school. Meeting twice as often as the previous year, the team met for 16 or more hours each week for 12 weeks. State tournament results will be out sometime in June.