Lea Wacek, English Language Learners Instructor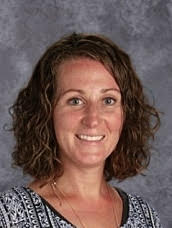 Upon graduation from high school, Ms. Wacek attended Minnesota State University Moorhead.
Why did you pursue the career path you have chosen?  If I'm being honest, I wandered around without a major for the longest time, and my parents finally told me I had to pick a path or get a job.  My advisor suggested education, and I reluctantly took an introduction to education class.  While in the education building, I met a great guy and decided to keep taking education classes in the hopes that he'd notice me.  By the time I was halfway through a major in education, he asked me out on a date.  I ended up marrying him and finishing my degree!
What did you do before coming to NPHS?  I taught Spanish at NPMS for 15 years.
What have you enjoyed most about NPHS or what do you most look forward to here?  I enjoy seeing the middle schoolers that I met as 6th graders who have now grown into INCREDIBLE young adults!
If you could sit next to anyone on an airplane, who would it be and why?  I would sit next to my friend, Jenn.  She's funny and we'd laugh the whole way.
If you had a warning label, what would yours say?  WARNING:  spontaneous napper 😉