Trojan volleyball is on a roll
One month into its season, the Girls Volleyball team has dominated. The Trojans have a 12-5 record and rank 4th in Class 3A. They have 4 wins in the Metro West with only one loss to a tough Chaska squad. The team captains include Laci Kratovil, Shelby Bolar, and Anna and Abby Molstad. The team is coached by Greg Sayuk with assistant Sammie Collier.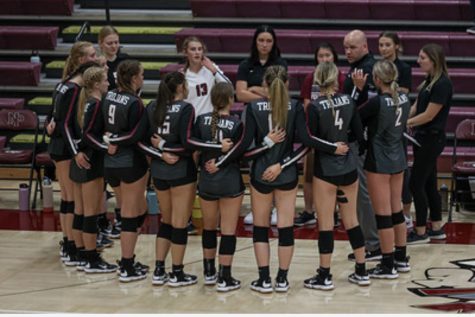 The team's motto this season is "Together We Stand Relentless." This group is strong, versatile, and relentless. Led by Seniors Abby and Anna Molstad, the sister duo makes a great connection on the court, along with a strong middle Shelby Bolar. There is also some young talent rising, including freshman Emerson Dillion and sophomore Avery Klein. Dillion is returning for her second varsity season as a libero. Klein has been a great addition with explosive and energetic gameplay. Junior standouts include impressive blockers Claire Baribeau and Kayla Thorsfeldt, as well as Madi Johnson, who is always there to pick up digs.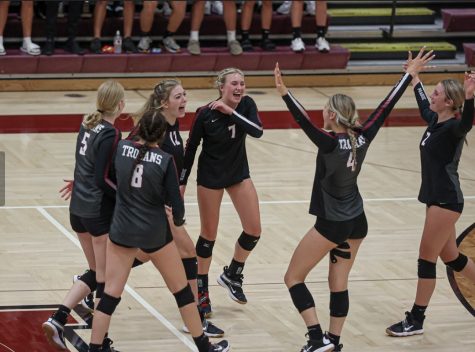 One of the group's most noted achievements so far was placing second in the Farmington Invitational. The girls swept St.Charles and Faribault in the first rounds. They then went on to beat Elk River 2-1, losing in a battle against an undefeated Mayer Luthern team.
The large student sections show how fun and exciting this group is to watch. There are still a handful of games left in the season to see the volleyball team.