Kelsey Weinandt, Speech-Language Pathologist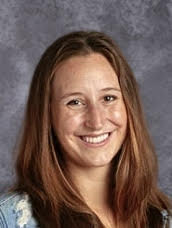 After high school, Ms. Weinandt attended the University of MN Duluth for undergrad. She planned to major in Marketing and Graphic Design, but eventually changed her major to Communication Sciences and Disorders and pursued an Art minor.  She applied for graduate school 3 years in a row before being accepted into a Master's of Speech-Language Pathology program at St. Ambrose University in Davenport, Iowa.
Why did you pursue the career path you have chosen? Getting to where I am today has been a winding path. After finding that Marketing and Graphic Design were not the majors for me, I looked at the list of majors at UMD and thought that Communication Sciences and Disorders sounded interesting. It was a 'helping' career, with a mix of science and creativity, and would allow me to work with people of all ages in various settings. After taking Introduction to Communication Sciences and Disorders, I changed my major. My original plan was to work in a hospital with adults who've suffered a brain injury or who have difficulty swallowing or own a private practice working with children. Through internships and side jobs, I have found that working in the school setting is where I want to be and I love my job here!
What did you do before coming to NPHS? I worked at Eagle View Elementary and Holy Cross Catholic School.
What have you enjoyed most about NPHS or what do you most look forward to here? It is fun to be working with my high school teachers! I look forward to working with a new group of students this year. I felt like I needed a career change and switching to the high school has made me excited about my job again!
If you could sit next to anyone on an airplane, who would it be?  David from Schitt's Creek.