Trojan Volleyball finishes third in Class AAA state competition
They took on Kasson-Mantorville Friday, November 12 at 7 p.m. at the Xcel Energy Center and were defeated 3-1. The team ended their season in the consolation round Saturday, November 13 against Grand Rapids whom they defeated 3-0 (25-15; 25-23; & 25-21) to take 3rd place in Class AAA.
Wednesday, November 10 the Trojan volleyball team defeated Chisago Lakes 3-1 in the quarter-final round of the Class 3AAA state tournament at the Xcel Energy Center. Chisago Lakes took round 1 with a score of 20-25, and New Prague took the next 3 rounds 25-17, 24-19, and 25-11.
To get to state competition, the Trojans defeated Academy of Holy Angels in the section finals of 6AAA volleyball Thursday, November 4 in Waconia, 3 sets to 1. The Trojans took the first set 25-16. Holy Angels came back to take the second set 25-19. The teams volleyed back and forth throughout the entire third set, ending in a Trojan victory 25-21, and in a tense fourth set, the Trojans defeated Holy Angels 26-24.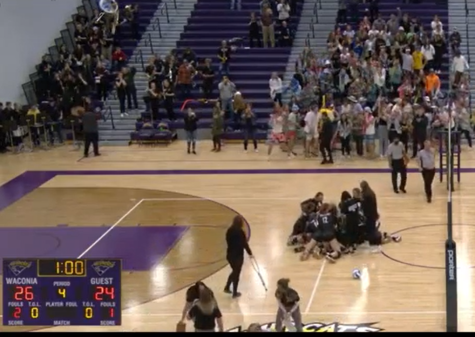 This is only the second time the team has qualified for the state tournament, the first since 2001. As the girls collected their medals and the team trophy, a large section of Trojan fans waited anxiously to rush the court. When they finally had a chance, all anyone could see was a swarm of Trojans jumping up and down in excitement.