NPHS students are entrepreneurs
Many teens have odd jobs throughout their high school career, these jobs may include fast food, retail, stocking, or cashiering. These jobs come and go, but in high school, they are temporary. Most teens go to college and find new jobs. Some students in New Prague have started their own businesses. These businesses not only can travel with them wherever they go, but they can grow with them.
Senior Noelle Francis has her own candle business. Noelle started her business in November 2020. When she first started she did not sell the candles, but she used them herself and loved giving them away to friends and family. Noelle was looking for a way to make some money for college. Her dad always encouraged her to "be her own boss" if it was possible. So, Francis did some research to create something she could be passionate about. She and her family have always loved candles, so she decided she wanted to learn and create her own candles and experiment with different scents. For each candle batch it takes upwards of 45 minutes to an hour. Noelle started by just selling or giving candles to friends, family, and neighbors. Now, she has her own website where she receives online orders to be delivered locally every weekend. She never expected for her business to be growing as fast as it is right now. She is so thankful for all the support from all of those around her. One milestone Francis has accomplished is an opportunity to sell her candles in a salon and boutique called "Salon De Beaute". Francis also started shipping her candles, and she is very excited to start shipping across the U.S. She wants to keep her business going as long as she can or at least through college. She thinks it might be difficult for her to consistently make, deliver and ship her candles once she graduates, but it is something she is very passionate about. Knowing this, she wants to make it work as long as she can. If Francis's business continues to grow at this rate, she would love to make it into a career. As of now, she thinks that would be a huge jump. However, if that opportunity presents itself, she can see herself going all-in. 
Instagram: noelleclairecandles
Website: https://www.noelleclairecandles.com/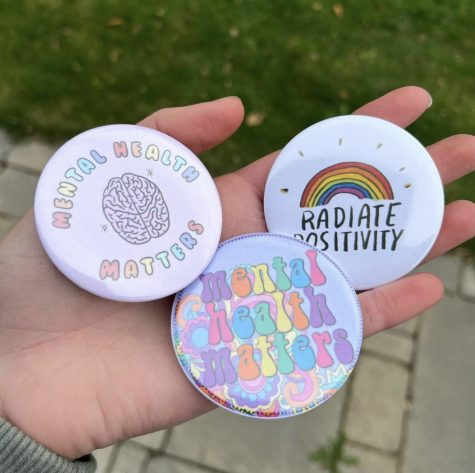 Junior Anna Schellin started a pin making business. Schellin started this business because she loves having pins on her backpack to express herself in a safe and creative way. She figured she could help other people feel the same by making buttons to sell for cheap. To make each button, it only takes a few minutes using her machine, but the hard part is making sure she prints the correct size image for the buttons. Her business has grown to almost a hundred people which is a goal she wants to achieve. If this business continues to grow she will keep it until she graduates. Shellin might even continue to do it after depending on her machine and the continuing ability to produce the pins. She cannot see herself making it into a career, but it is a good business to sustain for now.
Instagram: buttons.for.buttons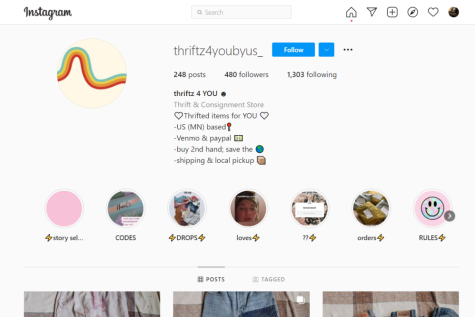 Junior Mandi Becher started a thrifting business on instagram. She started her business when Covid hit. Becher decided on a clothing-influenced business when she had some clothes in her closet that she was not going to wear anymore. This is when she created her instagram, and it only grew from there. Becher wanted it to be not only enjoyable for everyone, but for her. She did not want it to turn into something she dreaded, so she enhanced her love of thrifting. She currently sells thrifted clothes she finds, and other clothes from her closet. Each drop she does takes around 2 hours to take pictures of all the items she sells and edit each photo. Then she has to take the time to post the pictures with the information and price. Her business has grown like crazy, and it started from selling to her friends and now she has around 500 followers on her instagram. She ships clothing all over the U.S., including to South Carolina, Delaware, Chicago, and Connecticut. She wants to keep her business going through high school and maybe into college if possible. She can see it being a part-time job throughout her life. Becher said, "I enjoy it so much I don't see how I could ever stop".
Instagram: thriftz4youbyus_
As you can see there are many entrepreneurs throughout the high school. So, if you get a chance check out these entrepreneurs' Instagrams or maybe even buy a candle, button or some new clothes.