Ana Casqueiro, international student from Spain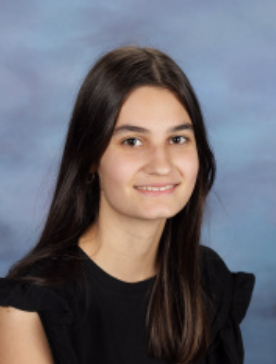 Ana Casqueiro is visiting New Prague as an international student from Spain. During her time here, Ana has noticed a few differences between America and Spain. What's caught her attention the most is the daily schedules. In Spain, Ana would eat lunch at 2-3 p.m. and dinner at 9-10 p.m., but in America she's waking up at 6 a.m., having lunch at 12 p.m. and dinner at 5 p.m. Ana says that "At first it was very shocking to eat at noon…but I have to say that it did not take me long to adapt."
When asked what she misses most about Spain Ana answered, "Without a doubt, some of what I miss most about Spain is the food, especially my grandmother's food." Food tastes very different in America compared to Spain and part of this difference comes down to the preparation. Ana noticed that American dishes are often cooked with butter, where Spanish dishes commonly use olive oil instead. She says that this small difference makes even eggs taste different.
Ana said she chose to come here because "American culture has fascinated me since I was a child."  One thing about American culture Ana thought was interesting was "that everything is so big; the food portions, the supermarkets and even the cars." She also noticed that there is no shortage of fast-food restaurants here. (Her favorite is Chick-fil-a.)
Overall Ana is enjoying her stay in the US, despite the fact that she has to get up earlier and has a much fuller schedule.