Gymnastics season wrap up
Another season has been completed for the New Prague Trojan Gymnastics team, and an exciting season at that! Led by a brand new head coach, Darrell Christenson, and returning assistant coaches, Doug Amundsen and Ann Niedermayer, these ladies had an incredibly successful season. With captains Ellie Morris, Paige Ophus, and Addison Hartshorn, they began their season with hopes of going to state at Roy Wilkins Auditorium. Both JV and varsity reigned undefeated and won all of their meets including the conference championships.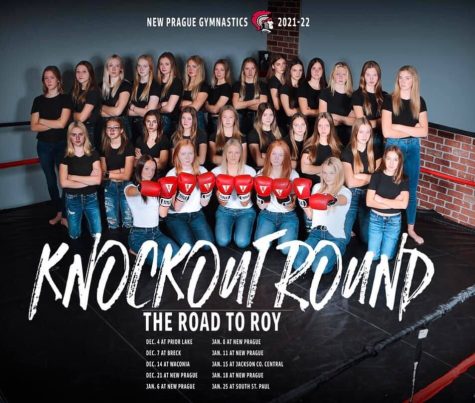 Because of their successful season, they obtained their goals, and they made it to state at Roy Wilkins Auditorium in Minneapolis. They competed at state in the Class AA division on Friday, February 18th and the student section was packed with excited fans. At state, their final meet of the year, they placed 2nd overall with a score of 145.725, only .475 points away from first. Individually, Ava Bruegger, a 9th grader, placed 2nd All Around, 2nd in Uneven Bars, 5th in Floor, 17th in Balance Beam, and 21st in Vault; Jadyn Klein, an 11th grader, placed 3rd in Uneven Bars; Samantha Solheid, an 11th grader, placed 12th in Beam and 42nd in Floor; Ellie Morris, a 12th grader, placed 13th on floor; Hannah Kraft, a 10th grader, placed 18th in Vault; finally, Ava Barsness, an 11th grader, placed 20th in floor. Even though they did not win, the team still had a very successful season. This season proved to be the perfect environment to build long-lasting relationships that will survive the test of time. 
Overall, these gymnastics had an incredible season, and another one is to come in the winter of 2022/2023. As of now, all three coaches plan to return in the winter.  At the end-of-season banquet Ella Barsness, Jadyn Klein and Samantha Solheid were voted Captains for the upcoming season.