Barbarian the movie has suspense for days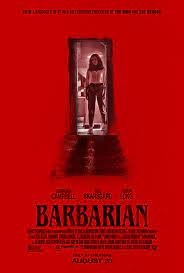 When the credits rolled for Zach Cregger's Barbarian, I didn't move for a solid five minutes. I suppose this isn't that strange as I usually take some time to appreciate all who contributed to the movies I see, but this was pure astonishment.  I stared at the screen trying to comprehend what I had just watched. I opened my mouth to say something many times, but couldn't articulate a single thought. Not once did I have any idea where it was going. I pride myself in my ability to foresee the twists and turns of a movie, but this one hit me like an invisible bus going 87 miles an hour. 
Barbarian opens with a young woman attempting to unlock the door to her rental home to find out that it has been double booked. A seemingly kind stranger opens the door and, against all that women live by, the woman enters. As abnormal as a woman going into a house with a complete stranger-man, the movie only grows more bizarre.
As out of the ordinary as the story is, the characters were so real. The authenticity emanating from these characters made me feel like I knew them personally. As if I could bump into them on the street, share a smile and a laugh, and then head to a coffee shop just like old times. Bill Skarsgård (who you may know as the "It" clown) gave a perfect portrayal of the understanding gentleman, aware of all that women have to fear. Every mannerism perfectly planned out to display the thoughts of his character. It truly felt like I could read his mind and comprehend his every intention. 
Squeamish people be warned! The blood and violence sneaks up on you…literally. At times, I did find the copious amounts of gore to be unnecessary, but it contributed to the overall tone of the movie. The "over the top"-ness of the last 30 minutes of this movie will make you want to giggle and also throw up. 
No surprise that the critics loved this movie. With stellar performances by Georgina Campbell and Bill Skarsgård there is very little to not like about this movie. It had an incredibly unique plot, nearly perfect execution, and suspense for days to keep you glued to that screen. Earning a 92% on Rotten Tomatoes and a 7.6/10 on IMDB, this movie set a high bar for the rest of the horror movies to be released this fall.