NPHS takes steps toward equity
"New Prague Area Schools is dedicated to creating a culture where all students have an equal and inclusive opportunity to thrive academically, socially, and emotionally. We will honor the uniqueness of each individual and embrace diverse backgrounds, values, and viewpoints that will build an empowered school community while acknowledging our differences as strengths."
In response to last year's incidents of hate speech and racism from New Prague students, New Prague has adopted a new District Equity Statement. This is one part of a large movement to institute change and foster tolerance and acceptance in the culture of New Prague Area Schools. The statement was written by the new District Equity Coordinator, Termaine Fulton. 
New Prague High School now has posters spread throughout the school with QR codes to anonymously report hate speech. The posters are meant to promote action from bystanders. Fulton said, "Being silent is one of the worst things you can do."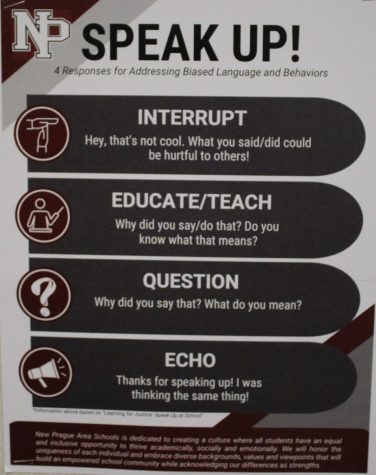 He also helped with the creation of a  Student Voices video, featuring a diverse group of NPHS students, that was recorded at the end of the 2021-2022 school year. The video dives into the experiences of New Prague students and how many have been victims of hate speech and erratic behavior from their own peers during school, school events, and sports. It provides insight into what a day in the life of a minority student is at New Prague High School and has been shared with the entire student body in hopes of spreading awareness and creating an empathetic environment at NPHS.
Last year's events have given New Prague an excellent chance to self-reflect and bring about positive change, and high school is not going to let that opportunity slip away.