Girls varsity tennis season wrap-up
Girls' varsity tennis finished with a record of 6-11. Though losing more than they won, the team did better this year than they have in the past. They beat teams that they lost to last year and placed higher in tournaments. They ended up having a few wins instead of a clean sweep, against teams they had lost 0-7 in the past, according to team captain Carley Motz. Additionally, Motz earned the only win when competing against Orono and Chanhassen. The top players this year were Payton Peterson, Carley Motz, Ella Blackford, and Iris Trygestad.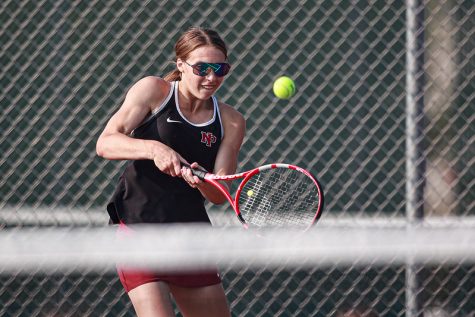 The annual Brainerd tournament took place on Saturday, September 10 this year. The team left the Friday before to prepare for the tournament the next morning. They ate dinner together and enjoyed some ice cream for dessert. When they arrived at the hotel, they were free to swim in the water park and hang out. The next morning, they arrived at the tournament at 8 a.m. for warm-ups and started playing at 9 a.m. By the end of the tournament, New Prague placed 4th out of the 8 teams. Iris Trygetstad placed second for #4 singles. On the way back to New Prague, the team stopped at Culver's for dinner after their success in the tournament.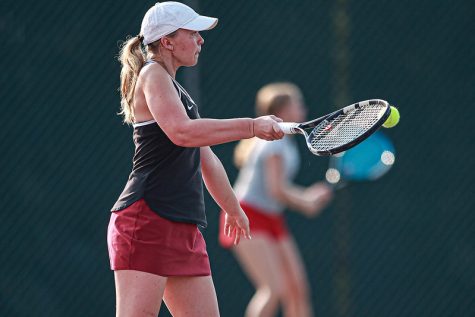 The girls participated in 3 pasta feeds this year. The team ate a large pasta dinner together to prepare for the upcoming match. The pasta feeds didn't only provide success in the team's matches, but they also allowed for team bonding. At the pasta feeds, the girls played many games together including spike ball, corn hole, yard Jenga, and ping pong. They also took some rides on a jet ski on Cedar Lake and prepared for the homecoming parade by making signs and signing tennis balls. "Pasta feeds are a great team bonding event, and it's a good way to get to know everyone outside the courts," said Motz.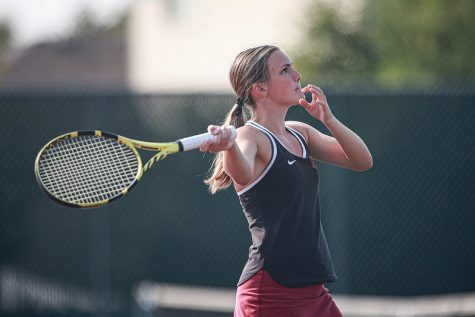 In years past, many matches have been canceled due to the rain and were never rescheduled because of the short season. However, the great weather this year allowed for about six more matches than last year. The girls had anywhere from two to four matches each week.
New Prague had 2 singles and 2 doubles teams representing them in the individual sections at Gustavus. Payton Peterson and Carley Motz represented New Prague for singles, while Maggie Giesen/Anna Sharkey, and Brooke Mensing/Savannah Ryburn were there for doubles. Peterson played Prior Lake and lost 0-6, 1-6. Motz lost against Worthington 6-1, 3-6, 2-6. The Ryburn/Mensing team lost against Mankato West 2-6, 6-3, 3-6. Giesen/Sharkey played Jordan and lost 6-7 (12-14 tiebreaker), 2-6.
Graduating seniors include Payton Peterson, Mandi Becher, Brooke Mensing, Anna Sharkey, Madison Larson, and Abby Pint. Congrats on a great season!