Boys soccer season wrap-up
After a great 2022 season, the New Prague boys' soccer team sadly lost in the Section Finals against Worthington on October 18. Ranked #2 out of 18 teams in the 2AA Section, the Trojans had a very impressive run this season. Coached by Cam Stoltz with assistant coach Nathaniel Luers, the soccer team had an 8-8-2 record this season. The boys' team is already looking forward to next year's season.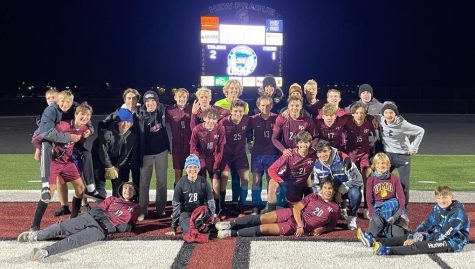 The boys came into the Section tournament with the #2 seed, set to play the Hutchinson Tigers. They came out with energy and enthusiasm, scoring quick goals. Satchel Johnson displayed an impressive game, scoring a hat trick along with Ryan DeNardo who scored a pair of goals. The team took an easy 7-1 win over the Tigers. Next, they were matched up against #3 Marshall. The Trojans were scored on early, but they did not give up. Shea Dickerson and Johnson both scored to end Marshall's season and earn a spot in the Section finals.
#1 Worthington blazed through the tournament, and it would be a battle of the Trojans for the championship.  Although New Prague gave a good fight, it was not enough to stop Worthington. The team fell 0-2 leaving them just short of State. 
With a great run, the seniors played their last game at New Prague Stadium. Seniors include Jack Eckstein, Ryan DeNardo, Charlie DeNardo, Jonathan Grams, and Alex Nelson.  Although the team will graduate some talented players, the future looks bright for New Prague Boys Soccer.