Boys Cross Country season wrap up
New Prague's boys cross country team wrapped up a successful fall 2022 season! The Trojans had many accomplishments and improvements to further the program's growth. With Head Coach Nick Meyer and Captains Riley Huesbey, Thomas Kulakevich, and Ryan Schoen leading the team, the varsity runners placed 5th and junior varsity placed third in the Metro Conference. They also finished 6th in Section 2AA, which was an improvement from their previous rank.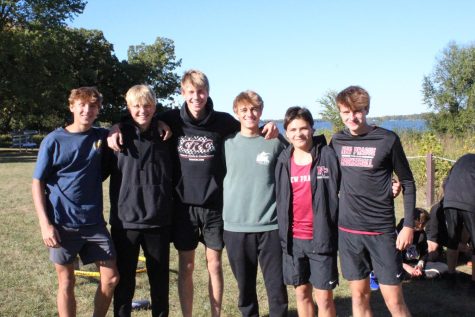 Coach Meyer shared his highlights of the season and pride in his team: "We always aim to enjoy the journey that is a cross-country season, and that was true this fall.  We have had many opportunities for special events that have helped us build strong relationships, strengthened our team culture, and provided a lot of fun.  Field trips to Mankato and Northfield helped us get to know each other as the season was young.  Weekly games gave us the chance to compete in often silly ways and to get to know the middle school team.  While these special days generate great memories, a team is truly built in the "day-to-day" of a season.  Our athletes showed up with a smile and a positive attitude, and they got to work. They encouraged each other.  They picked each other up when needed and celebrated with each other after each tough workout and race."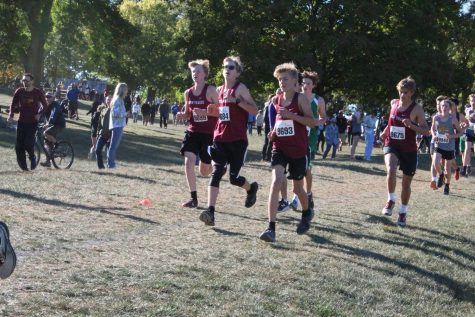 The team had many successes, despite graduating a talented senior class last year. The Class of 2022 included State-qualifier Jacob Malecha and multiple varsity runners. That being said, the team excelled by placing second in 3 invitationals. These were run at TCU, Jordan, and in our hometown of New Prague. They also earned the Academic All-State team award with a team average of a 3.81 GPA. These student-athletes showed dedication in and out of school and were awarded Gold Status. 
Seniors that will be graduating include Riley Huesbey, Ryan Schoen, Thomas Kulakevich, Cole Herrmann, Evan Bible, Jackson Braith, Andy Delost, Aiden Henkel, Joey Little, and Liam Roufs.  
Meyer added, "With ten graduating seniors, there will be big "shoes to fill."  To be successful, we know what it will take. Let's dream big, go work hard, and come back next August ready to compete.  We believe in you, and we look forward to the 2023 season!"