Mountain Biking wrap-up
The girls and boys mountain biking teams continue to grow each and every year. The teams race through the Minnesota High School Cycling League, which also continues to expand each year. The large extent of the league has caused a few changes this season.  Race weekends are now split in two; half the team races at one venue, while the other half races at another. The state venue has also changed this year. In past years, the state competition has been held at Mt. Kato, but this year the mountain biking state race was held at Redhead in Chisholm.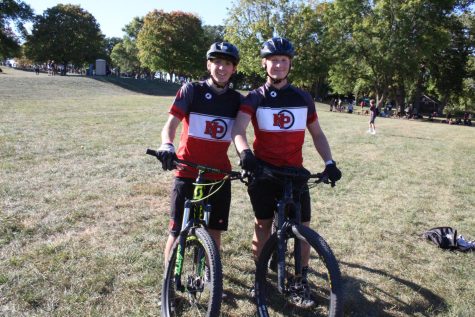 Both the boys' and girls' mountain biking teams had successful seasons. With tough competition against Stillwater, Edina, and Rochester, both teams had multiple athletes placing in every race this season. The team was proud to finish first in their first race this season in Shakopee.  The team's astonishing performance throughout the season resulted in 25% of the team qualifying in the top 10% of their class statewide. Even the young middle schoolers showed up ready to compete.  The middle school team placed 5th place at the state race.  Along with the young athletes, the team had three seniors this season: Sophia Metzdorff, Riley Huseby, and Selah Scherman; all were crucial contributors to the team. 
Aidan Rosemeier, a junior on the team said, "The race weekends are my favorite because of the team and atmosphere.  We all drive to the race venue and stay the night in tents, campers, or hotels." 
Senior, Sophia Metzdorff, shared what she will miss most about this sport. "I will miss the people more than anything else. I have grown to love all of my teammates and coaches, and I will miss them dearly.  Mountain biking is technically an individual sport, but I know I couldn't have done it without my team there supporting me. The relationships I've built in this sport are what keeps me coming back year after year."
Head Coach Jon Rosemeier's hopes for next season are to, "continue growth and success for the team and preserve the great unity and encouraging atmosphere we have nurtured." Assistant Coaches are Jason Sherman and Ben Stuber, along with 30+ registered parent leaders.