Shout out to the student section
Players play the game not for the fans but for their team, yet it always helps to have a community cheering you on. The thrill of a close game is something that can't be matched, and the atmosphere in a massive arena can't be contained the way it is in a high school gym or on the Trojan field. A large contribution to this atmosphere comes from the student section. Most players dread going to a school where the bleachers are flooded with students and fans from the rival team, and at NPHS, we pride ourselves in our student sections.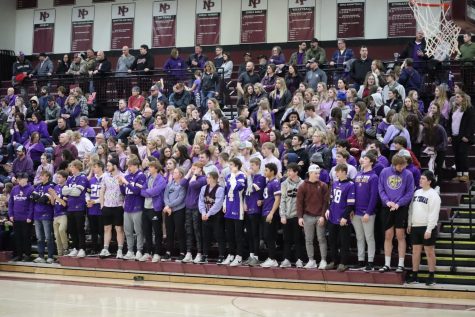 One of our most attended sporting events this winter was the boys basketball game against the top-ranked team in 3A, the Orono Spartans. A member of the team, Spencer LaRue, was recently diagnosed with cancer, and the team did a wonderful job getting people to come out and support him. The program sold Trojan gear and asked for donations at the Friday night game for Spencer's medical bills. The whole gym was filled with spectators dressed in purple, and high spirits filled the air. Although the Trojans ended up losing by 13 points, they proved they can compete with the best. Peterka's squad had 3 players in double digits, including Evan Weichart who scored 33 points. The student section was lively and energetic, and this extended to the younger grades since it was also youth night. 
New Prague Dance Team just had a very successful home invitational. Many fans attended and created a loud and boisterous atmosphere. Varsity Kick and Jazz both took home 1st place. The team went to State for the first time last year and looks to go again. A solid fan base never goes unnoticed and provides a confidence boost for the dancers. 
The winter season is over halfway done, but there is plenty of time for students to come to support all of Trojan sports teams. There are many teams hoping for State tournaments.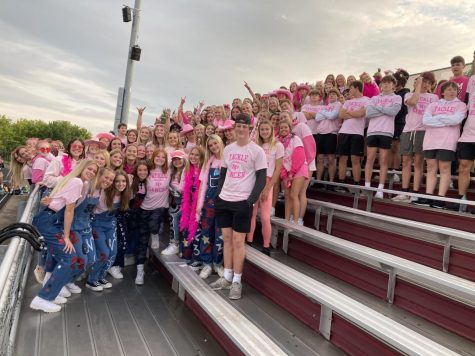 Gymnastics just showed they are one of the best teams in New Prague's history. They set a new vault record of 38.0, which broke the previous record set in 2013. Don't be afraid to make a stop across the street to see them in action. 
NP Boys Hockey also hopes to repeat its success this year and go to state once more. They look to be #2 in their Section, which gives them a great chance for a run in Sections. These are just a few of the impressive teams this season. 
Be part of the fan section at any of the following sports this winter: Boys Hockey, Girls Hockey, Gymnastics, Boys Swim and Dive, Boys Basketball, Girls Basketball, Dance Team, Wrestling, and Adapted Floor Hockey.