NPHS celebrates musical excellence
This winter, New Prague High School has demonstrated great success in many different sports: wrestling, dance team, adapted floor hockey, and our state champion gymnastics team, but there is an area in which New Prague consistently outperforms its neighboring schools that many people don't know about. That area is choir. 
Many students in the choir program elect to audition for honor choirs, choirs comprised of the most talented vocalists. Selection for these choirs is a high honor, and New Prague High School sends many students to these choirs.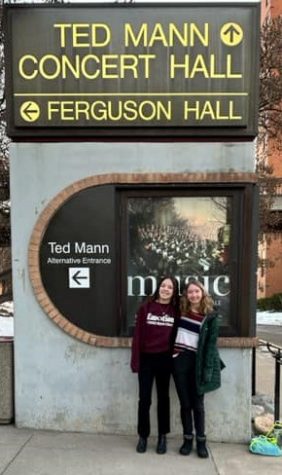 In the last month, the choir program sent 10 students to these highly competitive choirs, with two students accepted into multiple choirs.
One of these honors choirs is the MMEA All-State Honor Choir. This is the most prestigious honor choir in the state of Minnesota, and last week New Prague sent a record-breaking six students (the maximum number allowed from a single school). The All-State Honor Choir is unique because it is a two-part experience. Participants attend a week-long camp during August, concluding with a concert, and then the choirs reconvene the following February for two days to perform their music again at Orchestra Hall. This year, Seniors Micah Anderson, Gabriel Juenemann, Mandi Becher and Noah Stocker, joined by Juniors Kadyn Anderson and Lacy McLean, represented New Prague in the All-State honor choirs. 
Only Juniors and Seniors are eligible to participate in All-State, but there are opportunities for underclassmen as well. This year, 3 students were accepted into the ACDA 9/10 State Honor Choir: Sophomore Shea Dickerson and Freshmen Ella Schoenbauer and Saddie Massmann. These students got to experience an intense, day-long honor choir with students from across Minnesota, and they performed at the University of Minnesota.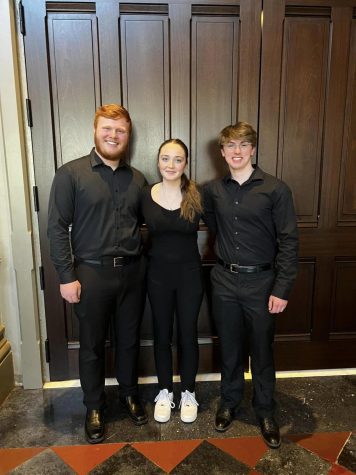 The last honor choir New Prague participated in this month is an incredibly esteemed choir: the ACDA National Honor Choir. Every other year, there is either a regional or national honor choir, and this year Cincinnati, Ohio hosted the National Honor Choir. Three New Prague students, Kayla Einertsen (junior), Gabriel Juenemann (senior), and Noah Stocker (senior), made the trek out to Ohio and participated in one of the most elite high school choirs in the nation. 
The New Prague choir program has a record of excellence and high performance, with exemplary representation in honor choirs being only one facet of the program's achievement.