Koy Buesgens: Trojan to Wolfpack
Tatum, Sports Editor
March 3, 2023
New Prague wrestling has generated many college athletes and successful wrestlers in its program. Here is a highlight of one of the most impressive wrestlers to walk the halls of NPHS. Senior Koy Buesgens is close to finishing off his high school career, and he has had many accomplishments through these years.  Buesgens is 50-0 this season and ranked #1 in the nation for the 145lb weight class. His skill and athleticism have also earned him a spot on the North Carolina State roster, one of the top wrestling schools in the country. 
Buesgens spoke about why he chose the Wolfpack. "The culture and atmosphere built at NC State fit exactly what I want to be a part of. I believe at NC State I'll be able to develop myself to be the best wrestler I can be while also working towards a degree in engineering for when I'm out of college."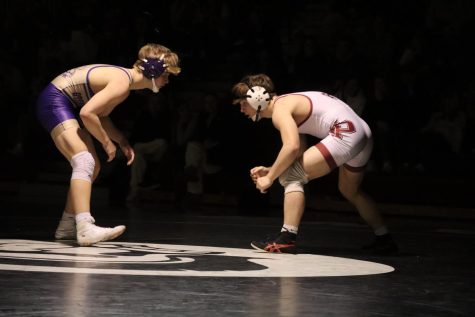 Buesgens already had two state championships under his belt when he earned his third at the state tournament this year. He ran through the tournament his sophomore and junior years, making it hard for anyone else to compete.  For the 2023 tournament, he was seeded #1 and finished the season undefeated. 
When asked about a highlight of his career, he mentioned the recent Section Championship that sent the New Prague team to State.  The Trojans fell in a close battle with #2 Watertown-Mayer the previous year but came back for revenge with a close victory of 37-32. Buesgens along with Joey Novak and Colton Bornholt had crucial wins to get their team to the Xcel for the 2023 state championship. 
From the small town of New Prague to the best in the country, Buesgens has put in countless hours to become where he is. 
He shared his thoughts on his path, "I think I got where I am from discipline, my competitiveness, and the people around me who have pushed me along the way. My advice for future wrestlers is to become comfortable being uncomfortable. You can't improve in anything unless you're willing to be uncomfortable."