Jen Sayler gets ready to teach more than social studies
The secret life of teachers
Jen Sayler, a social studies teacher and a Youth in Government Advisor for New Prague High School, has been doing yoga since 2015. She said yoga has led to a great mind shift and brings her a sense of peace. Practicing yoga has had a huge impact on her life.  So much so that for the last few months she has been taking classes and training to become a yoga instructor.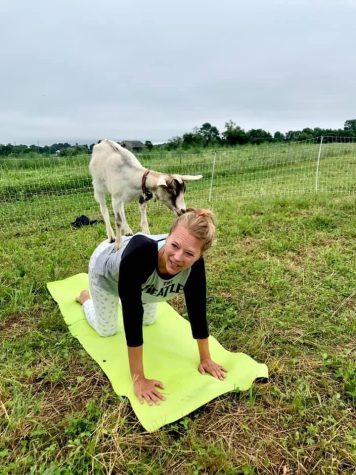 She first discovered this hobby through a 30-day yoga challenge from the Youtube channel "Yoga with Adriene". These first 30 days helped Sayler learn both the mental and physical benefits of practicing yoga and showed her how to take time to focus on 'letting go' and being 'present on the mat'. She has been doing yoga most days since! 
To keep up with her hobby, she used to go to a yoga studio on Main Street in New Prague, but since they closed, Sayler persisted in her love for the activity and continued to do it at home.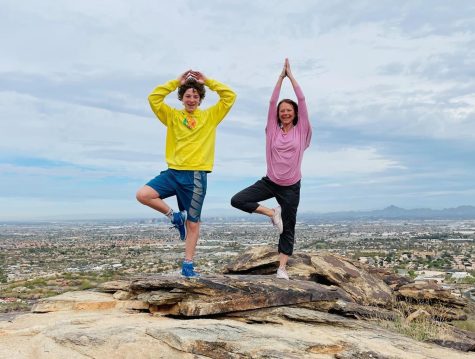 One of the requirements to become a certified yoga instructor is to instruct a group of people. Since her son, Carson, is on the Boys Swim and Dive team, she decided to start meditating yoga before meets and was surprised by the results. The boys were very focused and good at it, which she wasn't expecting at first. They understood the importance of intentional movement versus making it a competition. This greatly helped them focus on their upcoming meet and perform their best.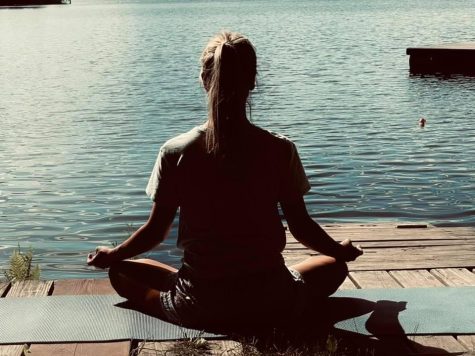 Sayler is taking an intensive class that includes about 200 hours of training throughout 13 weeks; each week is considered a 'module' that is done online. This program is called Happy Jack University, which is based out of Ontario, Canada. Each week has its own videos and lectures that she takes notes on. There are also video calls that last about an hour each week, to talk about their progress and keep each other accountable for their training and logs. These video calls consist of the same group each week which has allowed Sayler to make friends. 
Sayler says the most challenging part of becoming an instructor is teaching, which may seem surprising to most because she is a natural at teaching. But teaching yoga is very different because it is a lot more intimate than what she does on a daily basis. There is also the fact of time, and that it isn't infinite. So finding time to truly tune into your body and mind is also challenging. 
And finally, one of Sayler's favorite things about yoga is being able to practice with her friends and family. She recalls being able to practice yoga with Mrs. Thietje during Covid Hybrid classes, and also practiced with her mom, sister, and sister-in-law. One of the most interesting would have been doing Goat Yoga in Rhode Island. 
So next time you see Mrs. Sayler, talk to her about her journey with yoga, and even find some time this week to do some yoga on your own time, tune into your mind and body, and just focus on your breathing.