Girls basketball season wrap up
The New Prague Girls Varsity basketball team had a great season. They ended with a 13-14 record, which is a major improvement compared to previous seasons. The coaches this season preached hard work and dedication referring to their players as blue collared workers, meaning they worked their tails off for every win. Being in one of the hardest conferences in Minnesota can make players and coaches fear the spotlight and competition. This team did nothing of the sort. They showed up to every game with a genuine belief that no matter who they were playing, there was always a chance for them to win. Even when playing against some very well-known names in high school women's basketball, the players were never timid.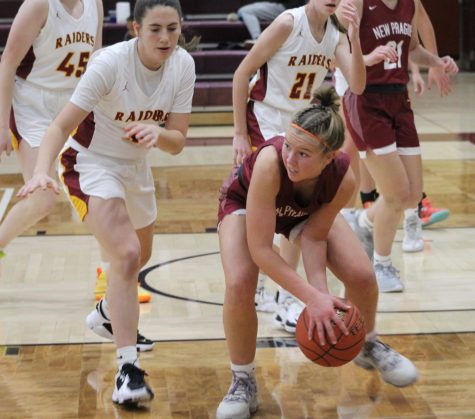 The season ended with an emotional banquet. Katie Boulanger earned the All-Conference award for her outstanding work for the team. Anika Hatlevig and Taylor Hemann earned All-Conference Honorable Mention awards. The next few years of Trojan basketball are guaranteed to be entertaining.
The team loses two valuable senior captains, Alexis Mattern and Maddy Boulanger. Both athletes have been in the program for many years, and help build a new culture for NPGBB.