Skogerboe is AA activities director of the year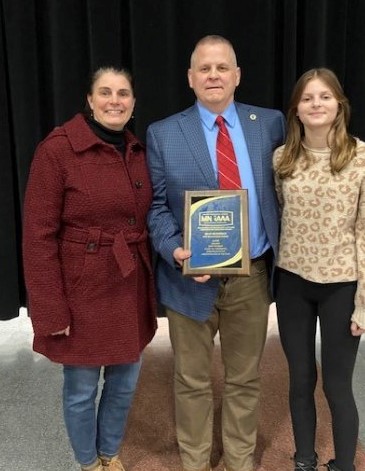 NPHS Activities Director Brad Skogerboe was named the 2023 Minnesota Activities Director of the Year for AA schools. The honor comes from his selection after being one of 8 regional activities directors of the year, and selected by a board of activities directors from AA schools throughout Minnesota. Skogerboe is the first New Prague recipient of the award in its 50-year history.
"I am so humbled by this award as I know there are numerous other people deserving as well," said Skogerboe.
New Prague High School sponsors more than 35 different sports and activities that run through Skogerboe's office. The activities office is also responsible for administration of middle school activities as well.
His dedication to Trojan activities is matched only by his family's commitment to New Prague schools. "I am extremely grateful to my family for allowing me to serve as an Activities Administrator for 18 years" said Skogerboe. "In our profession, we are gone a lot and it definitely takes the support of your family to make it work. On numerous occasions my wife &/or mother-in-law have sold tickets, one of my sons ran a scoreboard, and the other might run a scoreboard & do the announcing at another event. I have appreciated all of their help and support over the years."
The honor was bestowed by the Minnesota Interscholastic Athletic Administrators Association, the professional organization of school activities directors throughout Minnesota, and named in honor of former South St. Paul Activities Director Pete Veldman.