Speech team success
The Speech Team is not something that we hear about often, but throughout the 2023 year, members of the New Prague High School Speech Team have been successful in numerous competitions. The team is coached by Language Arts Teacher Sam Lewis.
At a meet in Farmington, four contestants from New Prague competed. Mason Schmidt, a senior, broke finals and placed 5th in Varsity Discussion, a category with over 30 competitors. Jack Nazzel, an 8th grader, also won big, placing 1st in Novice Extemporaneous Speaking.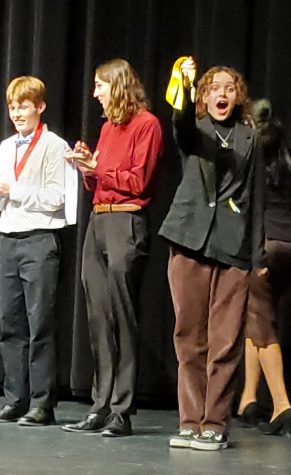 New Prague also competed at Mankato East High School, where Mason Schmidt broke finals and took 5th again in Varsity Discussion. Mallory Jirik, a junior, broke finals and took 6th in Varsity Extemporaneous Reading. Amelia Deuth also broke finals and took 5th in Novice Poetry. 
The meet in Shakopee was one for the books! At this meet, there were many remarks about the numerous speakers and entries. Lewis even said it was one of the biggest school events he had ever been to. Mason Schmidt broke finals and took 3rd in Consolation Discussion with nearly 60 competitors. Amelia Deuth broke finals and took 7th in Next-In Poetry with 38 competitors. 
Mallory Jirik who has been on the team for two years said her favorite part of being a part of speech has been everything from practicing to performing to being a part of the community that is offered. She also says that it is nice that the New Prague team is smaller, so members know each other better and have stronger relationships than a larger team would have.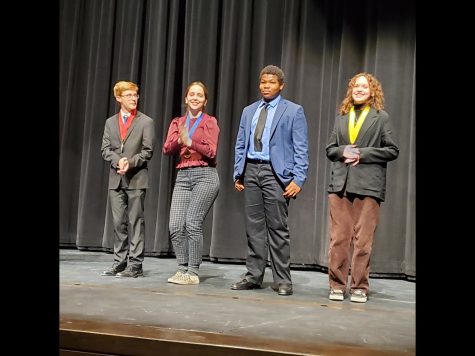 Amelia Deuth has been doing speech since she was in 7th grade. She says that her favorite memory from speech was her very first competition. Since it was her first, she and her partner didn't think they would place high, but they got 6th place. 
Mason Schmidt, the captain of the speech team, has been doing speech for nearly 7 years. Unfortunately, he will not continue speech in college, but he is interested in other opportunities, such as Mock Trials. He says that his favorite part of speech is right before awards are announced when everybody is together, right at the height of the meet. 
The speech team practiced every Tuesday with Mr. Lewis, and members were also required to practice with either Mr. Lewis or another teacher before every meet. However, this was rarely a challenge, as most students practice outside of school as well.