One Act Play Silent Sky: places first at sub-section tournament
If you hear a Scottish accent echoing through the high school's auditorium, do not be alarmed; it's One Act season! This year's show is a cutting from the drama, "Silent Sky", by Lauren Gunderson. It follows the true story of Henrietta Leavitt, played by senior Carly Berglund, an astronomer ahead of her time.  
Taking place in 1900, Henrietta has the opportunity to work at Harvard University mapping the stars; however, she receives no scientific credit.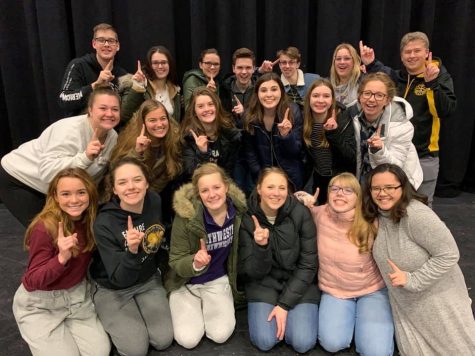 When asked about the show, Berglund commented, "I'm excited! It's a different style than we usually do and I like my character. She's got a lot of layers." 
With a cast of only fifteen characters, five of whom speak, auditions in November were competitive. Rehearsals started in December, and the cast has been working hard nearly every day after school. 
Another member of the cast, senior Becca Walsh, shared her thoughts on this year's production: "It's a very unique show, because we don't really do dramas. I also think the lights add a lot to the show." 
The cast successfully jumped its first hurdle Saturday, January 25 when they took first place at the sub-section tournament at St. Peter.  They compete in the section tournament Saturday, February 1.
Cast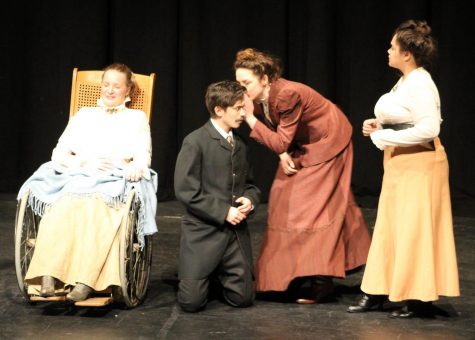 Henrietta Leavitt………. Carly Berglund
Margaret Leavitt………. Alison Kukacka
Peter Shaw………. Ian Hanson
Annie Jump Cannon………. Meg Schoenbauer
Williamina Fleming………. Erica Goulson
Ensemble
Mandi Becher, Maddie Dorner, Sadie El-Wailli, Ava Hart, Maddilyn Holicky,
Greta Madson, Amara Prochaska, Nora Rosemeier, Jessica Sadusky, Becca Walsh
Crew
Micah Anderson, Ashley Felmlee, Gabriel Juenemann, Tynan Puhl, Dylan Vilt