Girls Swim and Dive season wrap up
The swimmers and divers of New Prague had an amazing and history-making season. There is much to talk (and brag) about when speaking of the NPHS Girls Swim and Dive Team. Some highlights of the season include breaking school records, winning TrueTeam Sections for the first time in school history, competing among 12 other teams at TrueTeam State and finishing 9th, and placing 1st in 1A Sections by over 40 points. This resulted in numerous girls achieving personal and season bests and having the ability to compete at state.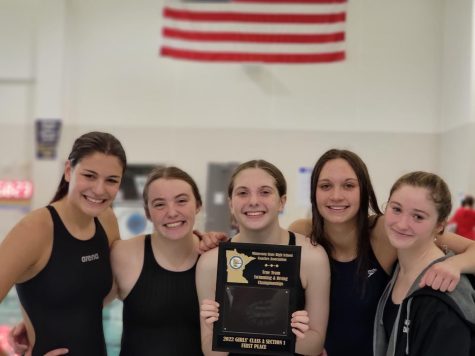 Some shout-outs to amazing achievements made through the team is Nellie Dalsin, a Junior, who placed first among 36 other divers at 1A Sections, and was named Section 1A Diver of the Year. Ava Bruegger, a Sophomore, placed 4th at 1A Sections. Dalsin finished 3rd at State, earning her spot on the podium. Bruegger placed 14th out of 32 divers, putting her in the middle of the pack. Payten Schieffer, a Junior, remained 2-time Section 1A Champion for the 100-yard butterfly. She finished 8th in the 200-yard freestyle and 5th in the 100-yard butterfly in the Finals at State. For the 400-yard freestyle relay, the girls who competed at State include 8th grader Carolyn Deluca, Junior Payten Schieffer, Junior Cassie Dworshak, and Freshman Taylor Basset. And finally, the girls in the 200-yard medley relay were Junior Ella Lund on Backstroke, 8th grader Carolyn Deluca on Breaststroke, Junior Payten Schieffer on butterfly, and Freshman Taylor Basset on Freestyle.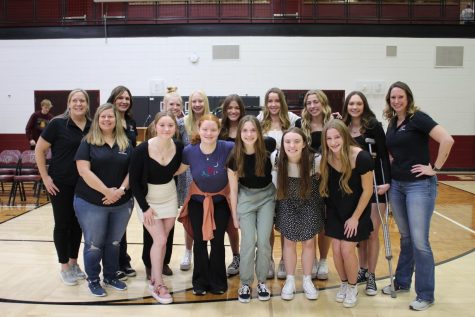 Other girls that participated in 1A Sections Prelims and Finals include 8th Graders Ava Koloc, Zoe Juncker, and Alexis Day; Freshmen Nicole Serie and Reese German; Sophomores Sophie Bisek, Lorelai Hamre, Payton Mayer, Georgia Beno, Brooklyn Schrock, and Kayla Solheim; Junior Georgia Beno; and Seniors Alli Foust, Ginny Botta, and Ava Barsness.