New NPHS staff member: Rumi
About three weeks ago, Rumi started his job as a certified therapy dog here at the high school. Rumi is a three-year-old, long-haired german shepherd owned by Principal Nicole Adams. Adams said that although Rumi started coming to the high school three weeks ago, she has intended to bring in a therapy dog over the last few years. 
"We know we don't have enough mental health support. So we brought Rumi to the school in hopes to help the mental health of students here," she said.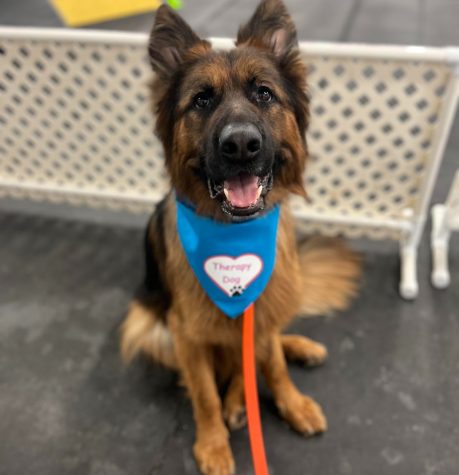 Pet therapy has been proven to be an effective intervention for students struggling mentally, and Rumi is the perfect dog for the job. Adams has seen firsthand how Rumi brings a sense of joy and a calming effect on students, especially students with anxiety. She sees kids struggling with the worry of judgment from their peers, and having a dog who is incapable of judgment can be a relief. People light up when they see Rumi and students and staff love to be around him. 
Adams is planning on keeping Rumi as a therapy dog for New Prague High School for future years to come. She said that she is thinking about getting her other dog, Ryder, certified as well. This way she can alternate Rumi and Ryder. Rumi has made a positive impact on the mental health of students and staff at NPHS.
Fun Facts about Rumi: 
Rumi knows how to high-five, roll over, and spin.

He loves kids! 

Rumi loves all of the garbage bins at the school and always wants to put his head in them. 

He loves backpacks. He can smell the snacks in students' backpacks and hopes to sniff them out. 

Rumi loves getting petted, preferably getting his ears scrunched. 

Rumi especially loves all of the snacks that he gets from students when he comes to school.